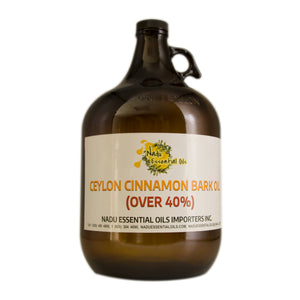 Ceylon Cinnamon Bark Essential Oil 100% Pure Concentration 1 US Gallon - Wholesale
---
Share this Product
Buy one US gallon of Ceylon Cinnamon Bark Essential Oil with 40% Cinnamaldehyde concentration. We offer special prices for businesses, and we also recommend the making of artisan products.
Buy 2 US gallons or more and enjoy special discounts depending on quantity.
We are direct importers of large quantities. For orders and inquiries, contact us directly at contact@naduessentialoils.com or call +1 (929) 490-4889.
To manufacture large amounts it takes 2 weeks to 1 month for bulk orders of 100kg, 200kg and 1 ton. Shop and save at Nadu Essential Oils for quality, price and service.
Disclaimer
We at Nadu Essential Oils strive to ensure the quality of our products and the accuracy of our  information. However the colors may appear slightly different. Items may be shipped in packaging that is different from the one shown in pictures, but the product will be the same.  Please note that cinnamon sticks are not included. Nadu Essential Oils recommends that you read labels and warnings before use. We are not responsible for any damages resulting from use by any person or claims by any third party sellers. This product is not FDA approved for internal or topical use. Do not use if you are pregnant, nursing or have any medical conditions. Consult your doctor before use. Keep out of reach of children. Statements regarding dietary supplements have not been evaluated by the FDA and are not intended to diagnose, treat, cure, or prevent any disease or health condition.
---